Join the Legacy Project to document the rich history of the Michael Reese Hospital
Mobility &
Connectivity
Mobility &
Connectivity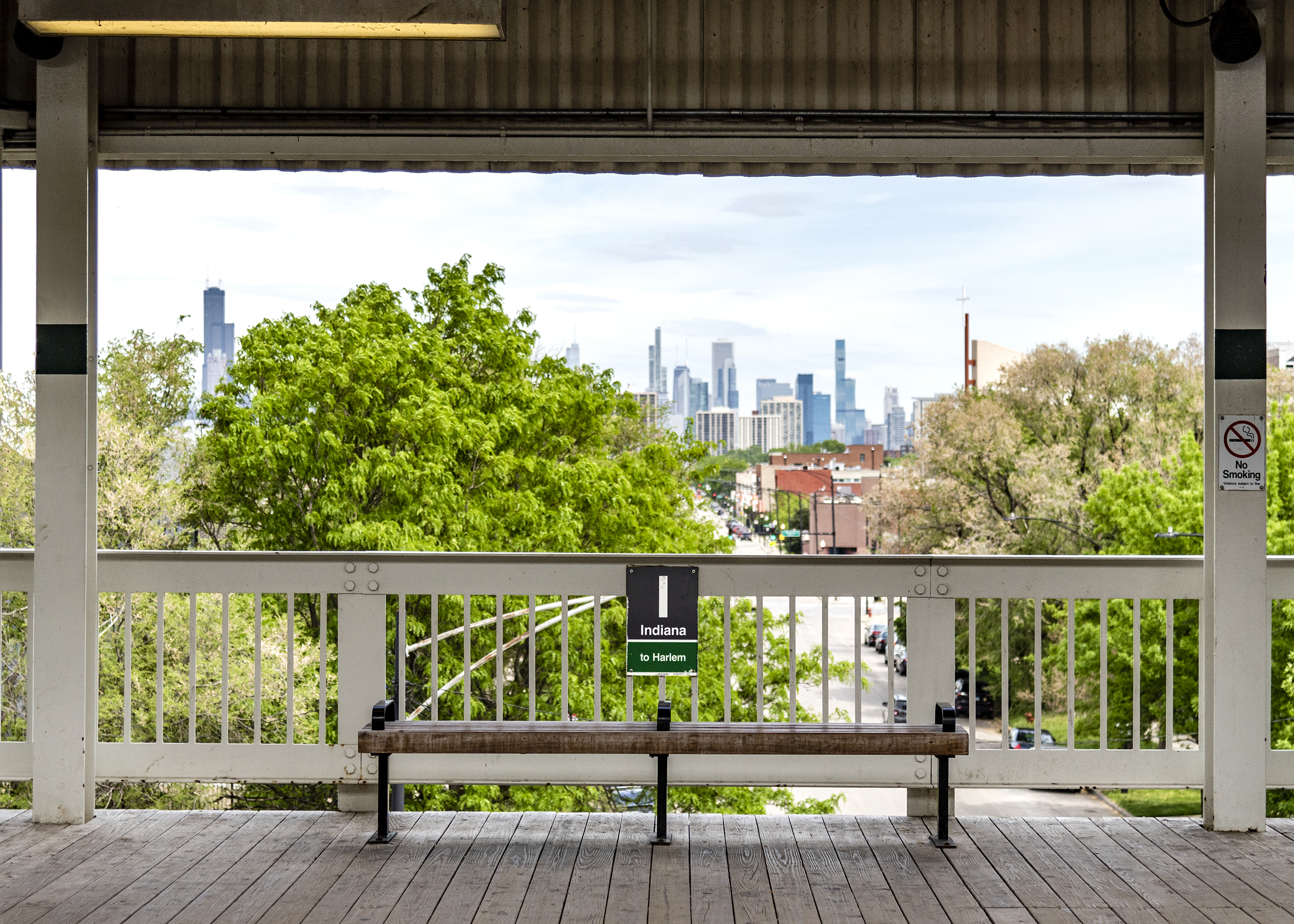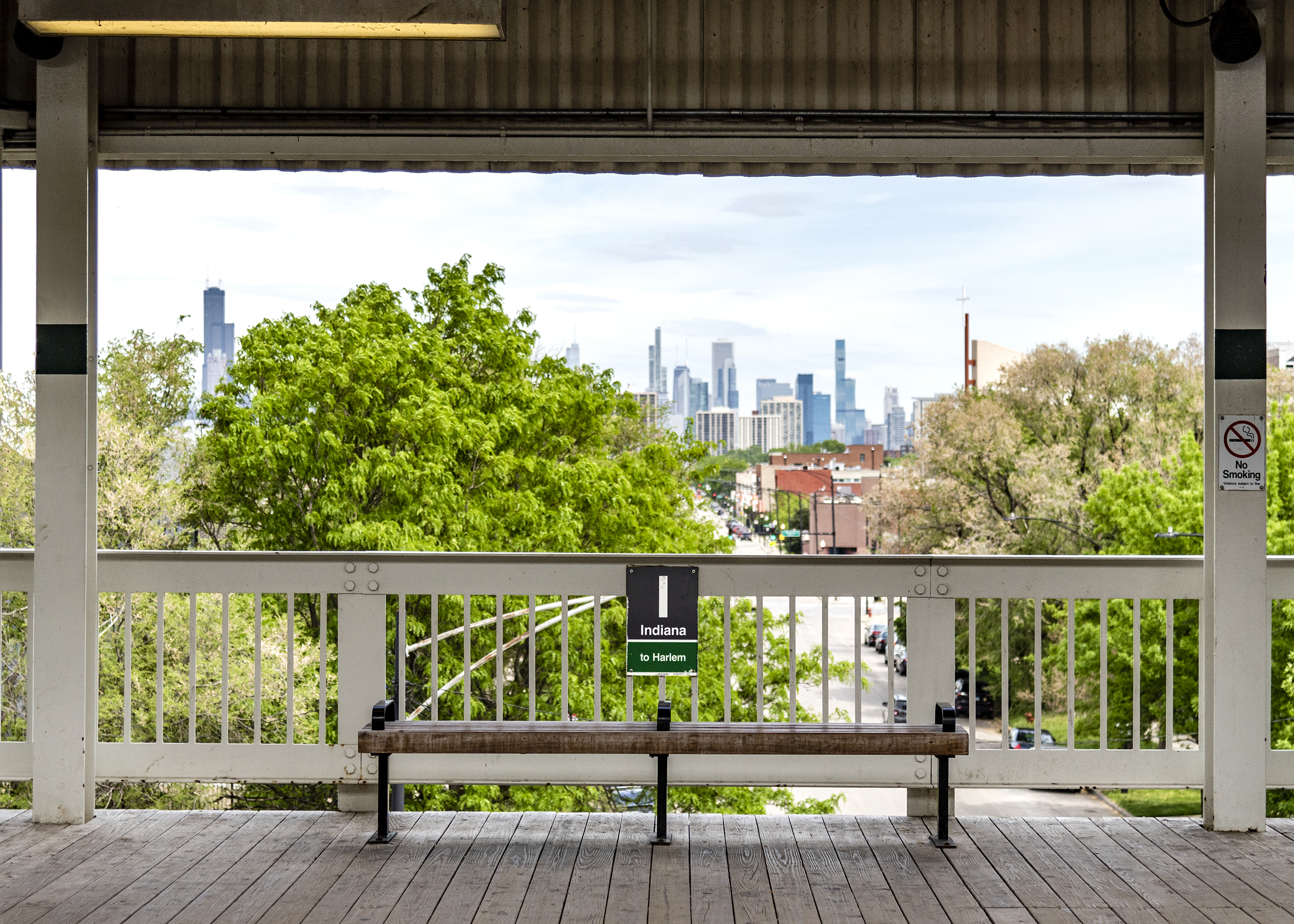 Proximity offers iconic, world-class recreation
Reconnecting Bronzeville to the City
Bronzeville Lakefront will reconnect the site of the former Michael Reese hospital to Chicago's greatest amenities. Its proximity offers iconic, world-class recreation: lakefront access, acclaimed museums, biking/walking paths, entertainment, the convention center, and sports venues. Drawing from the city's heart and its soul, Bronzeville's vibrancy will emanate throughout the Site while its surrounding neighborhoods showcase Chicago's deep cultural diversity. Renowned educational institutions nearby cultivate young minds, promising a robust local talent pool. Within 10 minutes, four highways provide swift connection to O'Hare and Midway airports. Close proximity to the 27th Street Metra station and CTA routes ensure abundant transit choices, including the new planned 31st Street Metra station.
Time to Downtown
Train: 14 Min
Car: 8 Min
Time to O'Hare
Train: 60 Min
Car: 34 Min
Time to Midway
Train: 40 Min
Car: 19 Min
Positioned for comprehensive transit access
Integrated Transit Hub
Bronzeville Lakefront is positioned for comprehensive transit access required by South Side residents, and Chicago as a whole. Two multimodal transit hubs integrated into the site will connect Bronzeville to the world via a state-of-the-art new Metra station. The dedicated busway will be centrally located on the site with additional CTA train/bus routes close by. With four major highways within 10 minutes, driving is easy and efficient. Bikeshare stations along 27 miles of public bike paths encourage cycling for commuting and recreation. The future promises advanced transportation modes from the lakefront to the Loop and O'Hare. With a sustainable regenerative design focus, Bronzeville Lakefront will be walkable with proximal retail and workspaces, interspersed with amenities, open space, and the ever-present Lake Michigan.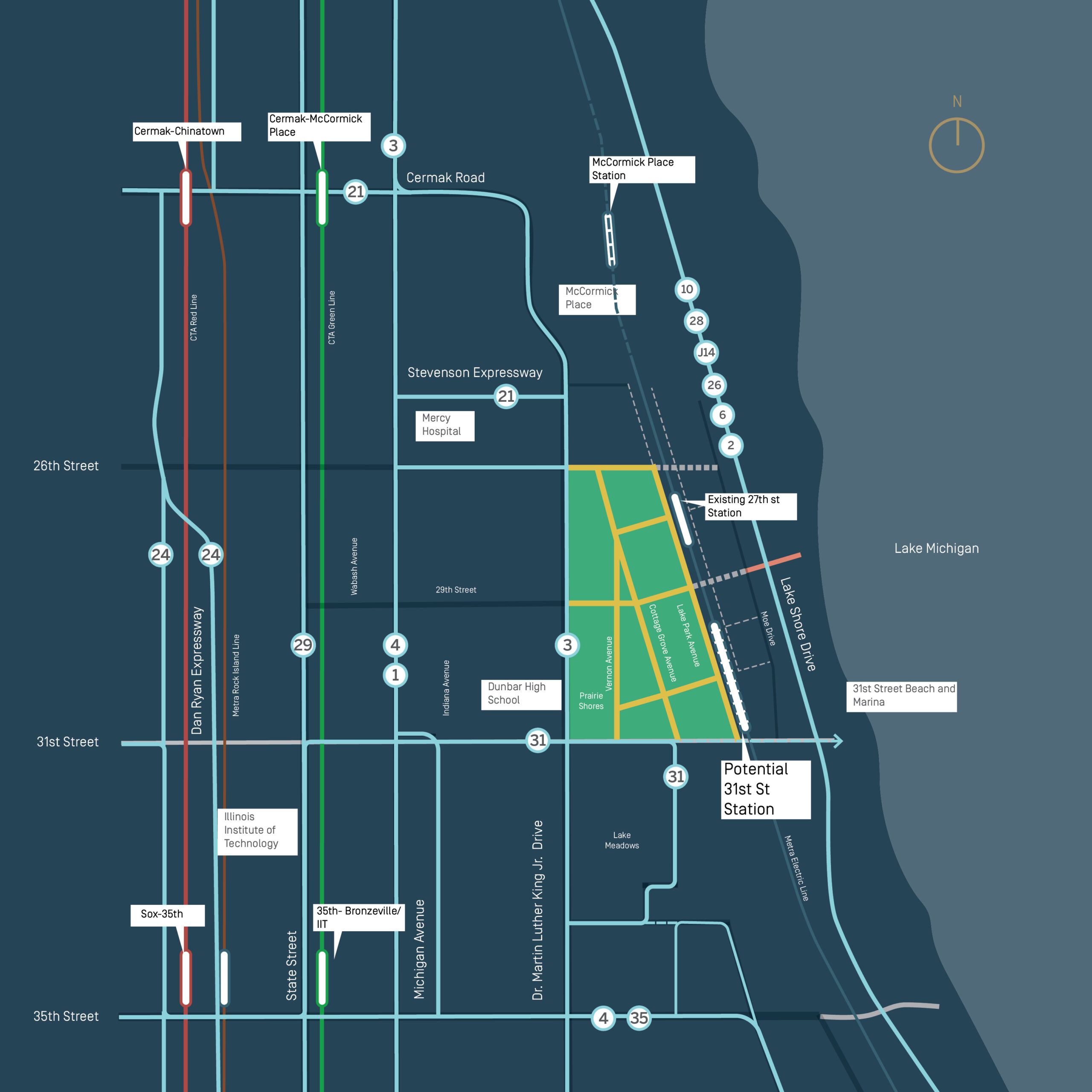 Connectivity & Accessibility
Relocating the 27th street Metra Electric Station to 31st street
Metra Station platform would be accessible at 29th street and 31st street
Opportunity to reconnect the site to the CTA bus network leveraging existing or future bus routes
Accessibility by bike, scooter and other modes of transportation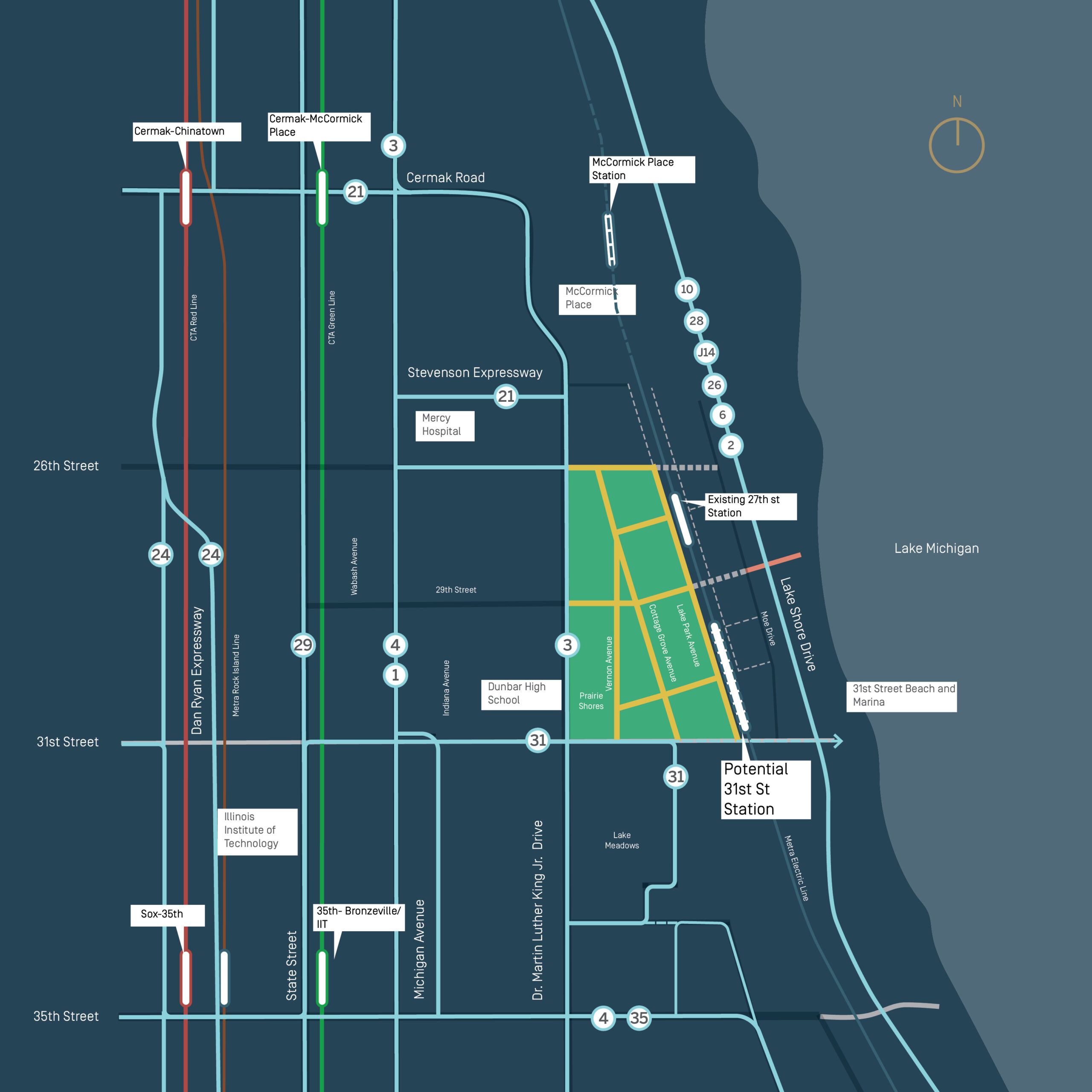 Key

PD Boundary

Existing Street Grid

Proposed Street Grid

Pedestrian Connection

CTA Red Line

CTA Green Line
Metra Lines

Existing CTA Bus Route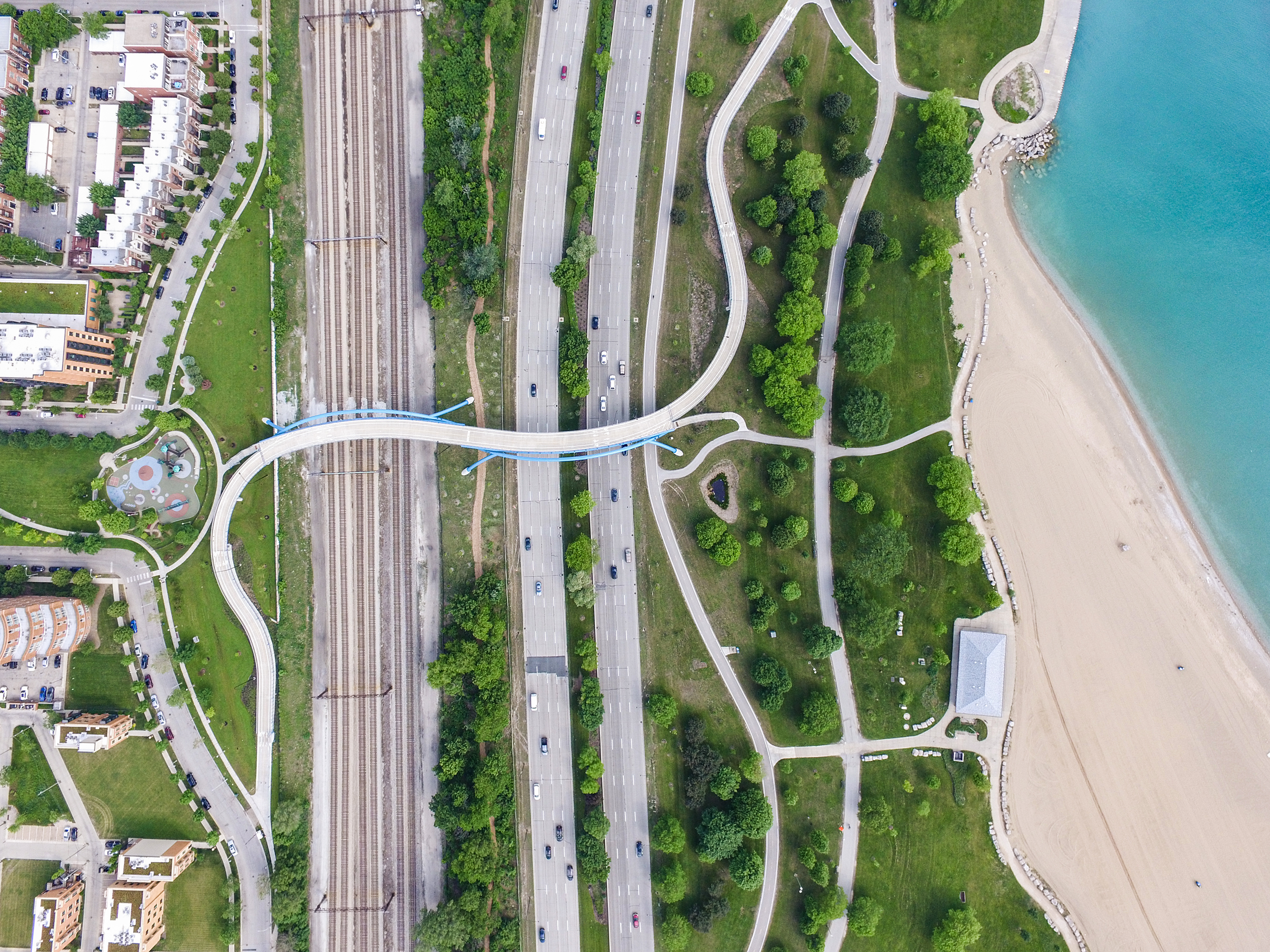 Leasing Inquiries
Bronzeville Lakefront will be a vibrant mixed-use development creating an ecosystem that small businesses, local Chicagoans, corporations and the like can thrive in. As we build, we look forward to engaging with interested tenants who would like to locate at Bronzeville Lakefront.